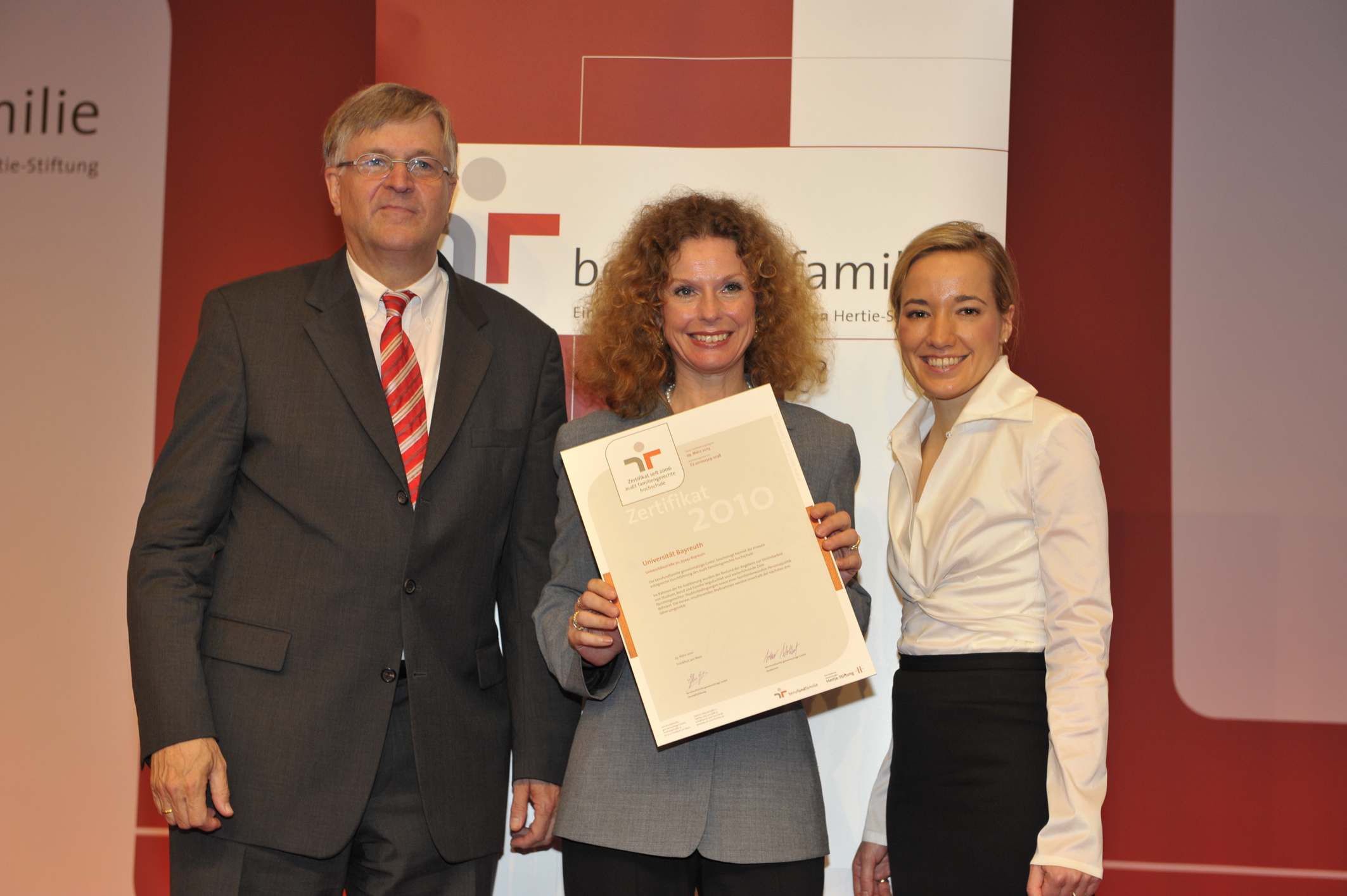 The beginnings of the workandfamily audit initiative go back to the 1990s. In 1995, the non-profit Hertie Foundation commissioned empirical case studies, which, with regard to the commercial sector, were designed to determine exactly which organisational structures and work processes contributed to a family-friendly corporate policy, and the benefits that derive from it. The results of these investigations formed the basis for the workandfamily audit. Following the example of the US "family friendly index", a certificate and a strategic management tool were developed which proved itself in a pilot project at numerous enterprises. Consequently, the Hertie Foundation established berufundfamilie GmbH in 1998.
Berufundfamilie GmbH's Family-Friendly University Audit represents a management tool to create working and studying conditions at universities and other tertiary institutions that are family-friendly. Building on the workandfamily audit, work began in 2001 on adapting the tool, initially developed for private sector enterprises and for public institutions, to the specific conditions of universities and other tertiary institutions. The catalogue of measures and criteria developed at the time took into consideration both staff and students, and the characteristics of the organisational structures peculiar to universities.
The workandfamily audit should be seen as a continuous (re-)auditing process within which concrete targets and measures leading towards the expansion of family-friendly structures are developed and implemented. The basic certificate awarded at the beginning of the process is re-audited or confirmed in a three-year cycle.
Meanwhile, a total of 130 tertiary institutions nationwide have been certified by the Family-Friendly University Audit.
In 2006, under the leadership of then Vice-Chancellor Dr. Dagmar Steuer-Flieser and the then Women's Representative of the University of Bayreuth Prof. Dr. Ulrike Ungerer-Röhrich, an in-house project group was established to gain an overview, together with the external auditors from beruf&familie gGmbH, of the family-friendly measures already introduced. Their consultations focussed especially on innovative measures that could contribute to nurturing of a university culture characterised by family-friendliness.
Their considerations orientated themselves on a catalogue of criteria which included eight areas of activity: Working time, work location, work organisation, management, information & communications, human resources development, accompanying services for families, studying conditions, and further qualification. A strategy workshop in July 2006 and an auditing workshop in October 2006 developed a profile of the Campus-wide measures for the University of Bayreuth, which were laid down in an agreement of objectives with beruf&familie GmbH with a view to re-auditing in 2010.
Very much in focus then, as now, were the following key objectives:
To consolidate a university culture in which the compatibility of study or work and family is promoted
To strengthen the identification of University of Bayreuth members with their University by means of family-friendly measures
To provide incentives for scientific careers
To heighten the attractiveness of the University of Bayreuth for students and staff by means of family-friendly measures
Since being awarded the basic certificate of the Family-Friendly University Audit on 30 November 2006, the University of Bayreuth has already passed two re-audits (on 29 March 2010 and on 22 May 2013